Steps:

Click the "Administration" link in the header or footer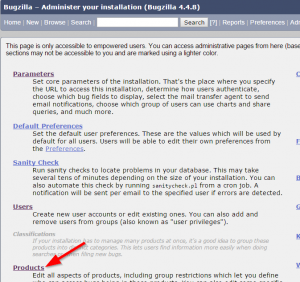 Click the "Add" link in the bottom right

Enter "Product" Name – required
Enter "Description" – required
Leave "Open for bug entry" checked.
Leave "Enable the UNCONFIRMED status in this product" checked
Leave "Maximum votes per person" set to 0.
Leave "Maximum votes a person can put on a single bug" to 1
Leave "Confirm a bug if it gets this many votes" set to 0.
Leave "Version" unspecified
Leave " Create chart datasets for this product" checked.
Note: When the product is created, it must have at least one component. Additional component can be added later. Components are subsections of a product.
"Component"-required
"Component Description" –required
"Default Assignee" field should contain the login name of the primary person who fixes bugs in that component.
"Default CC List" field should contain all the login names existing in the Bugzilla database from which the user can select multiple people.
Click "Add" button