You can create a backup of your Bugzilla database at any time.
First log into your control panel at https://devzing.com/login
Then choose Info & Backup from the Bugzilla menu.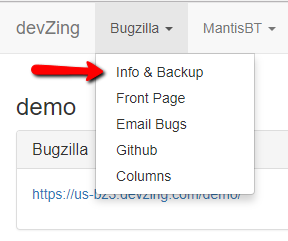 Then click the Create Backup button.
Your backup will be scheduled and you will receive an email when it completes with a link to download it.
The download will be a compressed MySql backup. To restore the backup on your computer:
Install MySql 5.7 (do not install anything later than 5.7 as it isn't compatible with Bugzilla)
Decompress the backup
create a database
restore the database using the command line.
mysql -u [user name] –p [target_database_name] < [dumpfilename.sql]
Install Bugzilla and configure it to use the restored database. See https://bugzilla.readthedocs.io/en/5.0.4/installing/index.html for more details.