Click the "Administration" link in the header or footer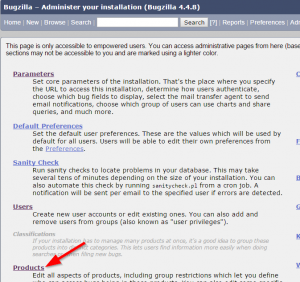 Select on the Product you wish to modify
You will be directed on the Edit Product Page
Leave "Open for bug entry" checked.
Leave "Enable the UNCONFIRMED status in this product" checked
Setting "Maximum Votes per person" to 0 disables voting
"Maximum Votes a person can put on a single bug" should be some number lower than the "Maximum votes per person" Never a "0" if the "Maximum votes per person" is non-zero.?????
Number of votes a bug in this product needs to automatically get out of the UNCONFIRMED state: Setting this field to "0" disables the automatic move of bugs from UNCONFIRMED to CONFIRMED??????
Once you have adjusted the values to your preference, click "Save Changes".